Did you dream of being a mermaid when you were a kid and still secretly wish that dream came true? I can't say I can help you but I can introduce you to something that could come close! Mermaid Blankets!!
The craze first showed up in an ad on Facebook (I think Facebook ads are generated by the caching of sites you visit and search queries to tailor the ads to you but I honestly have no idea what I was searching that told Facebook ' hey she'd like these mermaid tail blankets' but here we are today)! Very similar to a sleeping-bag but much cooler, these mermaid blankets keep your lower half warm and  have a very Tumblr – fantastical feel to them bringing you back to the good ol' days when 'mermaid' was a career goal!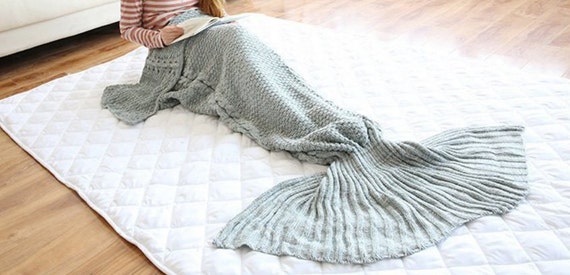 Actually come to think of it, there are professional mermaids out their which is super cool! There's a whole Buzzfeed video on it (several actually!), so if that's something you're interested in knowing more about check it out;
So what do you think? Crazy fad or are mermaid blankets the new Snuggie? If you are interested in getting your hands on one of these awesome blankets I'd suggest Etsy (click the images for links), mostly because you are supporting the art community but also because you have several options in one place from a range of different prices!
And if you want to make your own I stumbled across this lovely video while searching for some photos; Check out Crochet Lover's tutorial on how to crochet a mermaid tail:
Happy Monday!