Holiday shopping brings about a copious amount of challenges. What is the worst challenge of all? – That person on your list that has everything! I personally struggle each year to buy the men in my life something they might actually use, need or appreciate because sometimes that sweater and boxers thing just doesn't cut it. I've browsed online and after extensive research I've found a couple unique ideas for the guys and girls on your list that really do not need anything! These gifts a rather interchangeable for different sexes too! (Click on the images to the link to the seller's page to buy what you see!)
For the ladies that have stumped you;
FleetingInk temporary tattoos: I've personally ordered from Sarah and was quite pleased with her products! I ordered a few of the world map tattoos and they came within two weeks. I haven't quited worked out how to care for them properly as washing your hands can remove the shiny protective layer and expose your skin to stickiness but if your friend is into trying out new tattoos for nights out, this is the way to go! Not to mention they are extremely affordable! Check her shop out on Etsy : FleetingInk
Laptop Decals: I wish I thought of this sooner because large laptop decals would have been the perfect gift for a lot of people on my list! Again, Etsy is your friend! Here are a few products from Etsy sellers that caught my eye:
IPSY: My best friend actually mentioned this one. IPSY is basically a monthly subscription that costs ten dollars each month with free shipping and you or the person you are buying the subscription for, will get a little glam bag with small trial products including items from brands such as Tarte, Smashbox, NYX and more! If you have a make-up lover in your life and want to give them the gift that keeps on giving; this is the way to go!
For the men in your life;
I cannot for the life of me ever settle on gifts for my guy friends. It is a yearly struggle that usually leads to a box full of small goodies because I really just cannot find the perfect present! Well not this year! I have a plan (which has been partly fulfilled…).
Let's start with wallets – I can't buy this for my partner as he has a wallet he loves but if your friend/partner is still using that graphic wallet from eighth grade, maybe they can do with an upgrade! I stumbled across this engraved wallet from yet another Etsy seller (I have an obsession I swear). For less than thirty bucks this is a steal! A leather wallet complete with the fella's name? I think so!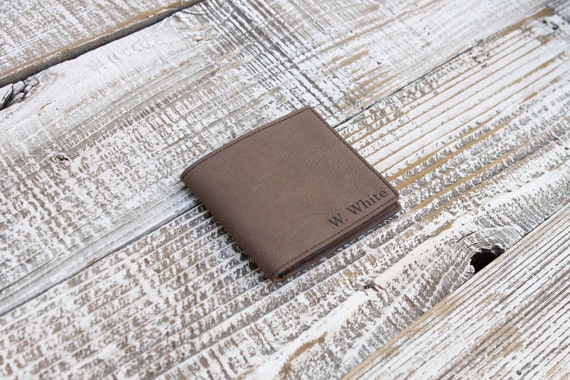 Maybe a phone case? I came across the wooden/bamboo style phone cases when I was looking for a spare for my own phone and thought that it could be a really nice gift idea! They have plain wood ones and decorative ones if you're looking for something a little more unique:
Date Night Mug: I also liked the idea of getting a cute mug and filling it with individual chocolates or something and wrapping each treat in a paper or band that has a date night on it! Sweets and dates for the next few months! Make sure the mug is quirky – I mean it's the first thing they see right?
What have your gifts been for the  'hard-to-shop-for' on your list?